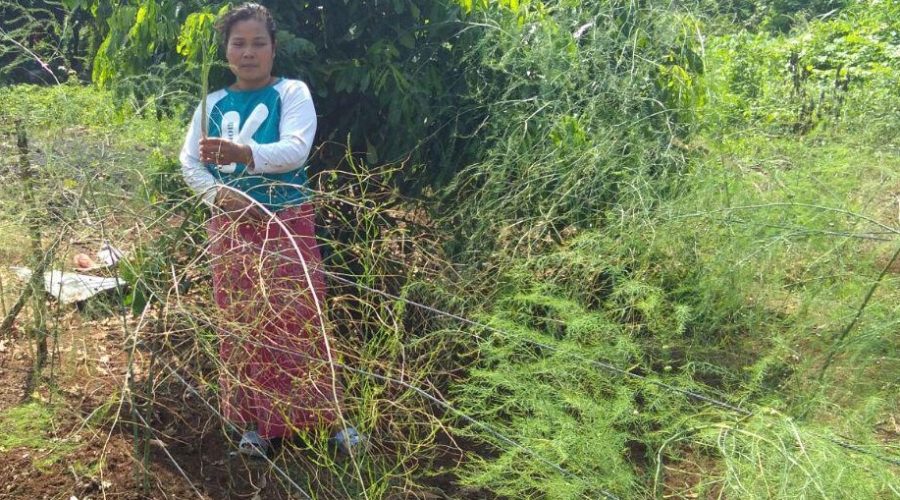 New crop for high market demands!
Asparagus is one of new crops in Cambodia and is grown best at a pH of 6.5-7.0. Smallholder farmers in Siem Reap, Banteaymeanchey and Pailin of Cambodia are trying to pilot this new plant within their small part of their farm land. Though, it i a little bit difficult to take care of the plants, still smallholder farmers wanted to grow. However, Asparagus can produce vegetables for up to 15 years after the first few years of growth.
Mrs. Lim Sopheap lives in Pailin province was visited by our CFAP Hub Farmer Facilitator, Touch Sopheap, in May this year during the project dissemination and farmers' rapid mapping led by AIMS Satellite Hub office in Pailin and under supervision from HUB Regional Office in Battambang, Provincial Department of Commerce (PDOC) which the project con-financed by IFAD and the Royal Government of Cambodia met with her and her family members. The teamwork visited her Asparagus farm to see for their analysis and how they can link her new produces to markets.
She said, she started growing this new plant since April 2016 on her 2000Sq meter and the plants have been growing well. Every day, she harvests about 20Kg of vegetables for supplying markets in Phnom Penh and the prices could vary in between 9000KHR and 11000KHR or US$2.25 and US$2.75 per kilogram.
Please note that Asparagus can be cooked in many recipes i.e. vegetable, frying, cooking, salad, pickle and many others.