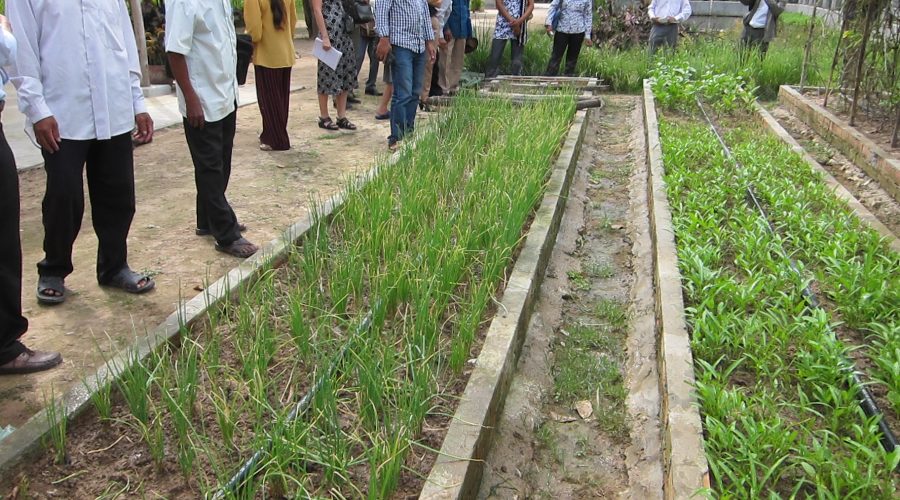 Agriculture is a major sector in Cambodia which represent of about 82% of the total population, most of them are smallholder farmers and live in rural area. They still depend much on rain water. Irrigation system is very poor and there is limited or no water in dry season that could allow farmers continue their farming activities in a year round. Rain water is about 1400-1500mm Ave./Yr. Even though, the country adopted itself as agricultural country, but Climate Services in agriculture are so poor. Generally, smallholder farmers could not get access to services, knowledge and finance properly. Cambodian agriculture is still unproductive compare to neighboring countries in the region.
CFAP addresses the issues on climate change to bring Innovation, Adaptation, Resilience, Market and getting access of farmers to finance for agricultural sustainability and profits, however this is not always easy because there is very limited or no regular fund to grant activities. We provided knowledge and skills through its capacity building programs (trainings and knowledge sharing workshops) to FO leaders and producer members. Farmers generally could not get access to proper finance (credit) with low interest rate to do their farming profitably while they do agriculture in a more organic driven, therefore production cost (expense) is always high with no proper balance in between expenses and incomes, that's why farmers always loss and cause a migration from the villages to find non-agricultural jobs in the city.
Base on our various results of studies conducted at the village, sub-national and national level, we learned that soil quality is poorer in Cambodia; many farmers could not get access to water source, most existing water source such as natural lakes, rivers, cannels are disappearing year to year and there is limited or no water in dry season. Open-wells become very dry and Ground water in most places is deeper (35-60 meters depth) to get water compared to last two decades (5-15meter depth). When natural things have changed, it is easy to get flooding when there's rain, thus to destroy farmers' crops, new pests happened, the temperature is hotter 25-40 Celsius, quick change affected vegetable, crops and animals as well as financial status while farmers are poor. Small farmers could not get access to weather forecast info, because they could not use technology​ (of course Rada station…,but it seems not accessible. Only about 10% amongst 40% of irrigation system in Cambodia is utilized, especially in dry season. Farmers generally could not adapt themselves to the quick changes of climate as they still believe on old information and still keep existing seeds generations, there is no habit of buying good seeds every year, in general. This is because there is no nearby good seeds company from their houses and also the living condition of farmers is low which normally force them saving to survive and cause problems of malnutrition finally. Generally, farmers are shy, especially women farmers to ask for information from advisors or resource persons.
Farmers now need regular information regarding the changes of climate, at least two times/year in order them to prepare cropping calendar well. This will enable them to have ideas to talk with Researchers, Government and Development agencies. In return, the Researchers, Government and Development agencies must express their willingness and commitment to work with farmers' organizations directly. Farmers' organizations must play a key role as produces suppliers to the consumers. The world must profit agriculture.
CFAP always advise farmers to change from more using of late and medium varieties to early varieties, grow in a rotation system by following the cropping calendar and technical protocols, thus to modernize gradually their farming practices that could stand with the current and quick changes of climate. We always raise the awareness on climate changes and its negative impacts to farmers in various meetings and workshops.
We wanted to see farmers and farmers' organizations get access to support and opportunity as follow:-
Policy on climate change to finance farmers and farmers' organizations directly as they are in the frontier of impacts from climate changes.
Produces suppliers to clients, thus to initiate economic for themselves with sustainability in the future.
FOs need more updated and specialized knowledge on climate change to disseminate info to farmers directly and on time
Farmers get access to services on soil quality improvement,
Knowledge on water management
Farmers get access to water source to irrigate their crops in a year round,
Good seeds
Meteo information
SMS to farmers through a Cell Phone
Involved in meetings and or workshops on Climate Change at (Sub-national, National and International Level).