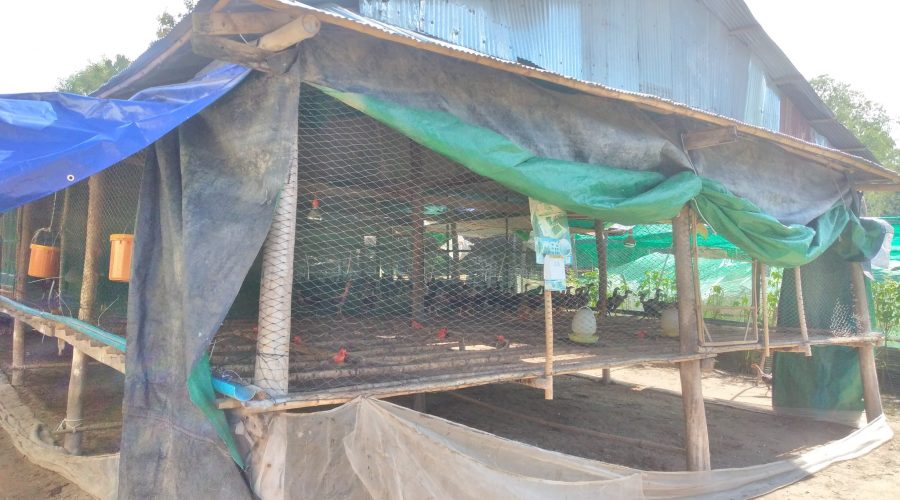 YOUNG FARMERS IN RURAL CAMBODIA ARE KEY FOOD PRODUCERS IN THE FUTURE!
On this Saturday, CFAP's managing director, Sok Sotha and colleagues conducted a field visit to meet some farmers who grow vegetable and raise chicken to improve their livelihoods which are resilient to climate change in particular young farmers to encourage and exchange with them on rearing backyard chicken and vegetable production for sales on markets as main income for the family. One of those raised more than 300 heads of backyard chicken and he sold every three month to buyers.
Backyard chicken costs about USD4.25 per kg in average, it can be more or less it depends on the low and high season of the year. Due climate change, it is too hot in dry season (November to April) and quick change of weather pattern in rainy season (May to October) that affected to animals' health which it is required to build specific knowledge for farmers, not only vaccination, but also skills on taking care of animals and management. Few farmer households now in the village can expand their animals' rearing, especially backyard chicken from 10 or 15 chickens per household to more than 15 and eve more than 300 heads.
Our farmers wish to learn more, especially on animals rearing to ensure that their animals do not have much problems and or diseases, especially in rainy season. They needed to get access to finance to expand their animals' rearing in a year round to meet market demands regularly.
CFAP works with smallholders live in rural areas, and farmer members still depend much on CFAP for help and it is a heavy burden for the organization to work for many smallholders. In this regard, CFAP alone cannot have achieved such a big responsibility with many smallholders without partnership with external partners and donors.