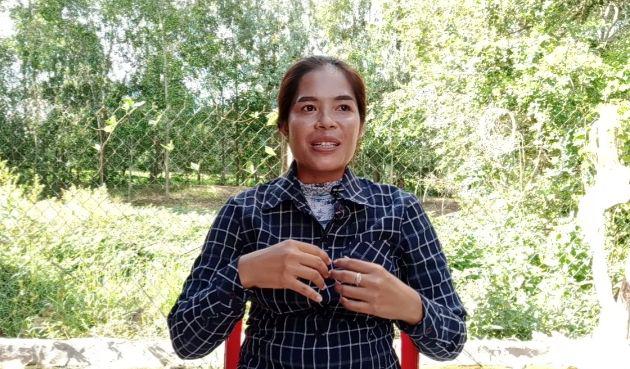 Young couple are trying to overcome challenges in the COVID-19 pandemic and effects of climate changes for food security and rural economic improvement!
As a former migrated youth to work outside home country, By Samol, aged 32 years old a farmer lives in Svay Kngou village, Svay Chrum commune, Svay chrum district, Svay Rieng province. Samol used to work as worker in South Korea on agriculture (water melon farm). After the contract agreement with the company had finished in 2015 she came back to home country in Cambodia and think of how to start a successful small-scale farming to survive the family. Samol got married with two little children. She tried to search on internet to find more farming options at first before starting small-scale farming very carefully of which crops are potential for markets in her areas. She spent about one week to search and learn many kinds of crops on internets and You-Tube included technical practices and markets. Finally, she decided to choose organic mushrooms to start her first started up small-scale farming business because her family has only a small farm land size just behind her house, it is only about 450 square meters, so it is required to have a smart and intensified agriculture and better prices on markets that can give better incomes to support her family. Then, she started having discussion with her husband. Hieng, aged 33 years old who is her husband, Hieng always supported her and he also appreciated to the initiated ideas of starting small-scale farming by growing organic mushrooms. In order to ensure the received technical knowledge from You-Tube is effective, therefore Samol and Hieng explored for technical support from the provincial department of agriculture forestry and fisheries as they heard about the project to support farmers on mushroom production in the province, then finally they got advisory support by the Agriculture Services Programme for Innovation, Resilience and Extension (ASPIRE), the project funded by IFAD.
At the first start of growing organic mushroom, villagers had expressed their concerns about markets for the organic mushrooms because they used to experience the lack of markets for agricultural products in Cambodia before, even if they grow few beds of morning glory at their small scale farm they found difficult to find markets for sales of their little produces said the villagers, however Samol and Hieng have different perspectives as they have foreseen that organic mushroom markets in Svay Rieng are good as consumers increased, so demands would also have increased. A month later, just after preparation of the first mushroom farm and germination of organic mushrooms they got very delighted results i.e. one bed yields from 80Kg to 120Kg in about 15 days after germinating the yeasts and they sold well on markets. Currently, they sold mushroom at the farm gate to nearby clients and Veal Yon market in Svay Rieng town and the prices can be varied from 15000 Riels or USD3.75 to 16000 Riels or USD4.00 per kg for wholesale. Today, Samol and Hieng can sell organic mushrooms about 25 days monthly as they have only four small-scale mushroom farms and they wanted to expand two more farms, so they can harvest in a rotation cycle every day. Hieng added that organic mushrooms are easier to grow than other crops, it is brief and it is really provided livelihood and resilience to the climate change. If we follow the technical protocols accurately, we are successful to grow organic mushrooms. However, Samol and Hieng together, they have expressed their concerns related to mushroom feeding substances or key compost to feed mushrooms such as Vigna umbellata husk (bean husk) which is very needed by the organic mushrooms and they are difficult to find in the areas where they live, normally they have long distance travel to buy Vigna Umbellata husk from other farmers at faraway provinces, moreover the yeasts were also another problem as they do not have knowledge to make it, and it depends solely on faraway markets too.
Samol and Hieng become a member of Svay Chrum Agricultural Cooperatives in 2020 and Svay Chrum Agricultural Cooperatives is a member of CFAP Cambodia, after several participation in other activities and events related and they heard about the agricultural cooperatives that work with small-scale farmers in the area where they live. As members of the cooperatives, they wished to scale up more mushroom farms to other areas within the cooperatives' constituencies in the future to improve livelihoods of rural farmers better and in response to food demands through agricultural production improvement and innovation with sustainability. Agricultural innovation will encourage more and more youth to work in agriculture in the future.
Samol wishes to have more farmer members within the Svay Chrum agricultural cooperatives to receive knowledge on growing organic mushrooms and also making yeasts in the future, so the agricultural cooperatives have capacity to increase more mushrooms for sales collectively for big buyers with clear contract agreement in the short future. She also wishes to have a strong collection point at the cooperatives to serve as a market based for farmer members, so the agricultural cooperatives can collect produces from farmer members for processing, packaging and supplying markets collectively and regularly. The livelihoods of small-scale farmers live in the rural farming communities will improve better in the future if farmers have specific knowledge and skills to do the innovative farming and to earn better incomes through intensified farming practices to support the families.
Finally, she appealed to the donors, especially the International Fund for Agricultural Development (IFAD) to expand grant properly to support small-scale farmers through farmers' organisations on agricultural techniques in this starting period, organisational and financial reporting system, starting up capital for the farmers' organisations to arrange collection points properly at farming community level and sub-national level to ensure the sustainable agriculture with active participation by youth in agriculture. Both of them also appealed to the financial institutions to provide loan with low interested rate i.e. below 5% per annum with no complications to apply for agricultural and related business loan to enable small scale farmers to start up their small- scale farming successfully with sustainability.
"No innovative agriculture, No sustainable agriculture and No food to feed people".