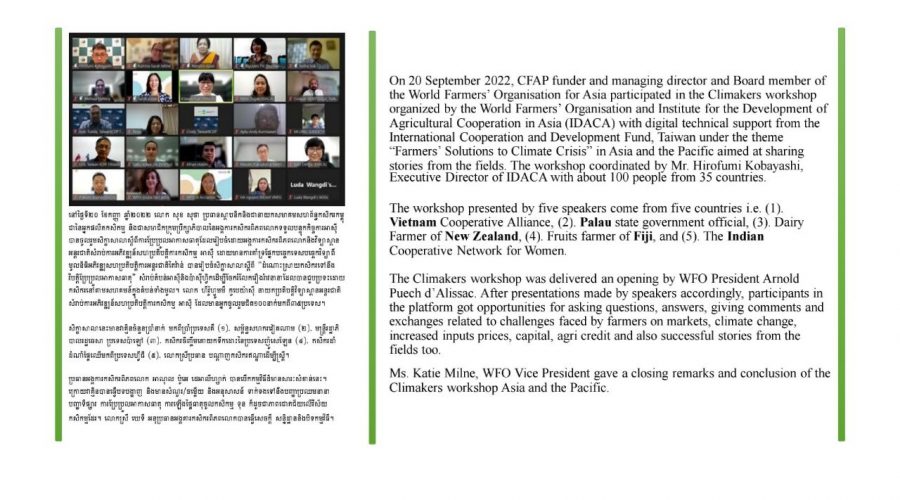 THE CLIMAKERS ASIA AND THE PACIFIC!
On 20 September 2022, CFAP lead funder and managing director and Board member of the World Farmers' Organisation for Asia participated in the Climakers workshop organized by the World Farmers' Organisation and Institute for the Development of Agricultural Cooperation in Asia (IDACA) with digital technical support from the International Cooperation and Development Fund, Taiwan under the theme "Farmers' Solutions to Climate Crisis" in Asia and the Pacific aimed at sharing stories from the fields.
The workshop coordinated by Mr. Hirofumi Kobayashi, Executive Director of IDACA with about 100 people from 35 countries. The workshop presented by five speakers come from five countries i.e. (1). Vietnam Cooperative Alliance, (2). Palau state government official, (3). Dairy Farmer of New Zealand, (4). Fruits farmer of Fiji, and (5). The Indian Cooperative Network for Women.
The Climakers workshop was delivered an opening by WFO President Arnold Puech d'Alissac. After presentations made by speakers accordingly, participants in the platform got opportunities for asking questions, answers, giving comments and exchanges related to challenges faced by farmers on markets, climate change, increased inputs prices, capital, agri credit and also successful stories from the fields too.
Ms. Katie Milne, WFO Vice President gave a closing remarks and conclusion of the Climakers workshop Asia and the Pacific.