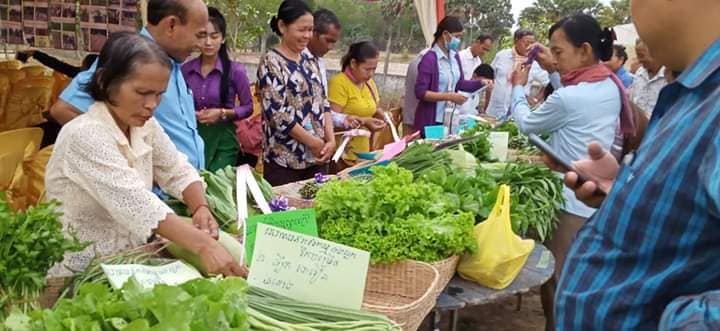 The BEST LOCAL VEGETABLE CONTEST EVENT (BLVCE) is key to transform and sustain agriculture!
Why is Vegetable Contest Event very important for smallholders and their producer associations/cooperatives in Cambodia?
On 6th March 2020 was the last event which remarked us as the Cambodian Farmer Federation Association of Agricultural Producers (CFAP Cambodia) with funding from ICCO through GRET Cambodia in partnership with Svay Chrum Agricultural Cooperative locates in Trabaek village, Svay Chrum commune, Svay Chrum district, Svay Rieng province, Cambodia and in collaboration with national farmers' organisations platform, the associations organised the BEST LOCAL VEGETABLE CONTEST EVENT (BLVCE).
We remembered that there were more than 100 farmers come from 15 provinces and municipalities in Cambodia and relevant stakeholders such as the Provincial Deputy Governor, Director of the Provincial Department of Planning, Director of the Provincial Department of Agriculture Forestry and Fisheries, Representative of the Provincial Department of Commerce, Deputy District Governor, Chief of Agricultural District Office, Commune Council/Chief of commune, Communal Administrative Police, Village chief, Development partners such as CIRD and Media (THMEY THMEY Newspaper and HANG MEAS TV).
CFAP Cambodia has facilitated to organize this event to enable farmers access to the opportunity to gather together to join in the vegetable contest event and to empower small scale farmers to continue their farming sustainably for long run, improve vegetable production to meet high market demands, engage smallholders to meet with buyers, local authorities, development partners and many other relevant stakeholders who work on agriculture and value chains. This event also aimed to involve producers' associations and agricultural cooperatives in other local development programmes in Cambodia. The Vegetable Contest Event, there were more than 10 different types of local leaf and fruit vegetables i.e. cucumber, string bean, salad, ridge gourd, bitter gourd, eggplant, lemon grass, winter melon, gourd, kangkong and spinach were brought by farmers represented their producer associations and agricultural cooperatives in particular from Svay Rieng and Prey Veng provinces to join in the contest.
To start the event, there was a playing of a short video produced by the Svay Chrum Agricultural Cooperative talking about the management of the agricultural cooperative, work performance of the controlling committee following the governing structure of agricultural cooperative and activities of the cooperative with farmer members included services, agricultural production, marketing, agricultural inputs supplies and value chains as a part of knowledge and experiences sharing with other farmers come from other provinces and relevant stakeholders.
CFAP lead founder and managing director, SOK Sotha said in the opening session that the event has organised to engage producers and buyers, improve and disseminate the local produces, improve the participation of youth in agriculture, help increasing agricultural production, thus to reduce imported vegetables from outside and improve collaboration opportunity between farmers as well as farmers' organisations with local authorities and relevant stakeholders. He also encouraged farmers in particular smallholders to have focused more on agricultural technical protocols from land preparation, taking care of crops to harvest and packaging following any preferred standards in the future. He raised few agricultural standards which are applicable by smallholders such as Good Agricultural Practice (GAP), Geographical Indications (GI) and Participatory Guarantee System (PGS) which required by higher markets currently, nationally and internationally. Though, he also raised some challenges faced by smallholders in Cambodia on climate changes, new pests, diseases and markets. Moreover, he also expressed his concerns faced by farmers on Capital, Water source, Markets, Packaging knowledge, processing knowledge, Transportation, Agricultural Technology, Collection Points at Producer Associations/coops and Business Literacy.
We believe after the threats of pandemic, we can find resources to organize this kind of event to strengthen farmers, farming communities in the PPP manner to transform agriculture, thus to make the lives in rural areas better. The BEST LOCAL VEGETABLE CONTEST EVENT (BLVCE) is key to transform and sustain agriculture, thus to strengthen the collaboration opportunity between farmers and farming communities and relevant stakeholders included private sector, government and development partners.