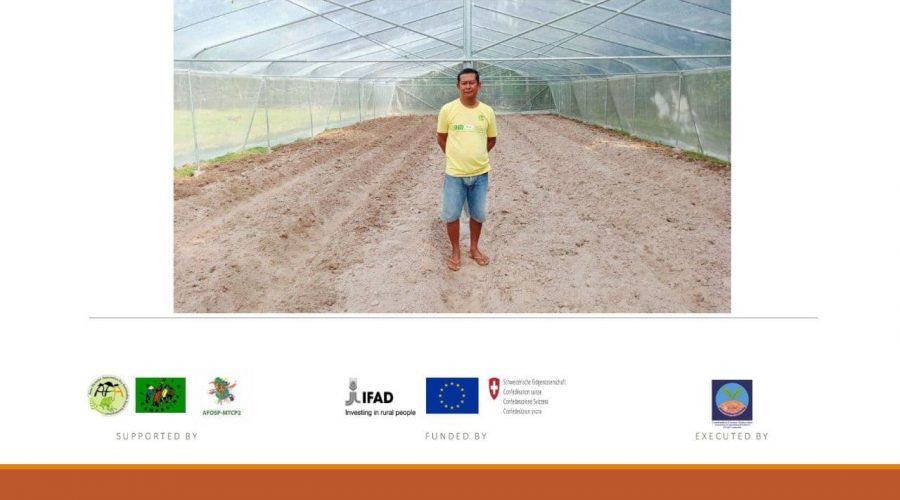 Small farmers need to improve producing capacity and small scale farm arrangement that can meet future market demands!
Mr.CHEN LYNA, a farmer lives in Thmol village, Chek commune, suburb of Krong Svay Rieng, Svay Rieng province, Cambodia. Lyna like growing multi crops and also few other poultries (chicken). Normally, he applied natural friendly agricultural practices which is related closely to agroecological practices because he does not use chemicals on his vegetables as well as to feed chicken. So far, Lyna has spent most of his times on small scale farm with multi crops and vegetables with his wife. His wife also play key role additionally after helping him on farm to bring vegetables for sales at the provincial market (Vealyun market) about 5 Km from their house.
According to COVID-19, Lyna found some difficulties to engage his products to markets because his wife and sometimes himself have to bring products for sales at markets with high risks of the COVID-19 where they meets different clients. In this challenging time and unexpected end of the pandemic, therefore he had discussed with his wife to reduce some commodities those are a bit difficult to take care, in stead to grow few commodities such as bitter gourd, egg plant, spinach and Pok Choy which they are more resilient.
Now the Lyna's grows vegetables in a natural friendly agriculture in an open space farm and spinach and Pok Choy in the net house. In average his family harvested from 120 Kg to 150 Kg of spinach and Pok Choy per season because there is no access to irrigation systems, therefore Lyna use pumping well to get ground water for irrigating his crops. Lyna needs to improve his vegetables productions to be more resilient to climate conditions and more related to agroecological practices in the future. The Lyna's is a member of Chek Agricultural Cooperative as CFAP's member in suburb of Krong Svay Rieng, Cambodia. He received a net house on 15 September 2020.
In the threats of COVID-19, CFAP is seeking for better market solution for farmers by strengthening collection center for collective sales and purchases and vice versa base at sub-national level to start engaging farming as a business by learning from current lessons learned affected by COVID-19 disruption to ensure sustainable food systems and markets for farmers in the future. To have achieved this planned goal, CFAP can not do it alone and need to be partnership with relevant stakeholders in the value chains, especially private sector and development partners (DPs).