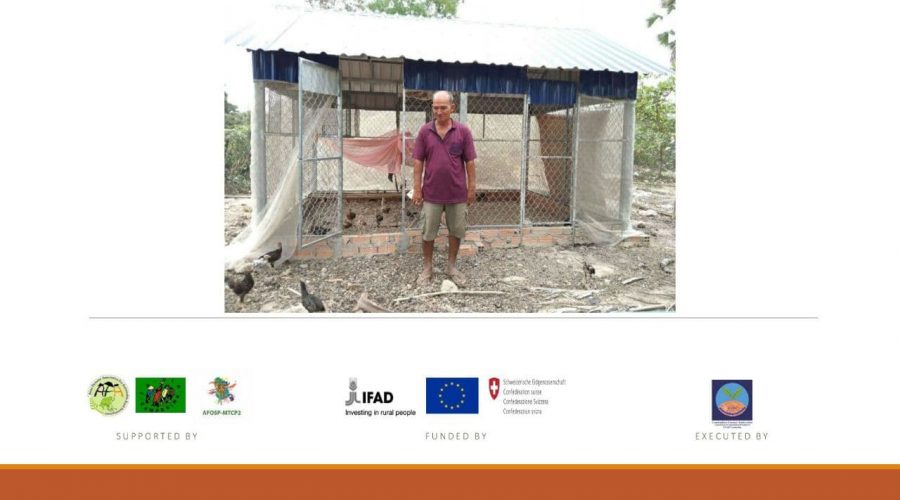 Small farmers in rural Cambodia need to diversify incomes to survive family in the threats of COVID-19 pandemic!
Mr. NHOEM SAM AN, a farmer lives in Kranhuong village, Doung commune, Romeas Haek district, Svay Rieng about 50 Km from Svay Rieng town center. He is a member of PEAM METREY AGRICULTURAL COOPERATIVE as CFAP's member in Svay Rieng province. Due market issues for cassava as farmers depend solely on foreign merchants to buy fresh cassava without contract agreement while the processing machinery of cassava is too expensive for small farmers to afford, therefore Mr. Sam An and other farmers always face problems with markets for his cassava in harvest season. Beside seasonal cassava planting, his family also grow some long term investment crop like coconut on his small farm to diversify some additional incomes, however he still faced problems on water for irrigation similarly to most farmers in the farming communities in Cambodia still depend much on rainfall to do farming when there is irregular rain fall to come, it can also limit and restrict agricultural production and growth of rural livelihoods as well.
To enable small farmers to survive their family in the challenging times disrupted by COVID-19 additionally to severe climate change and to sustain agriculture to overcome the challenging times, therefore CFAP has developed action plans to propose funding support from the AFOSP-MTCP2 to intervene small farmers as necessarily needed in the most difficult times for small and rural farmers. Mr. SAM AN's family received a chicken house with 80 chicks from the AFOSP-MTCP2. Mr. Sam An will change from old practices to new backyard chicken practices with better small scale farm management.
He thanks to the AFOSP-MTCP2 and he hopes to improve his family economy better through diversifying incomes from agriculture to support his family.