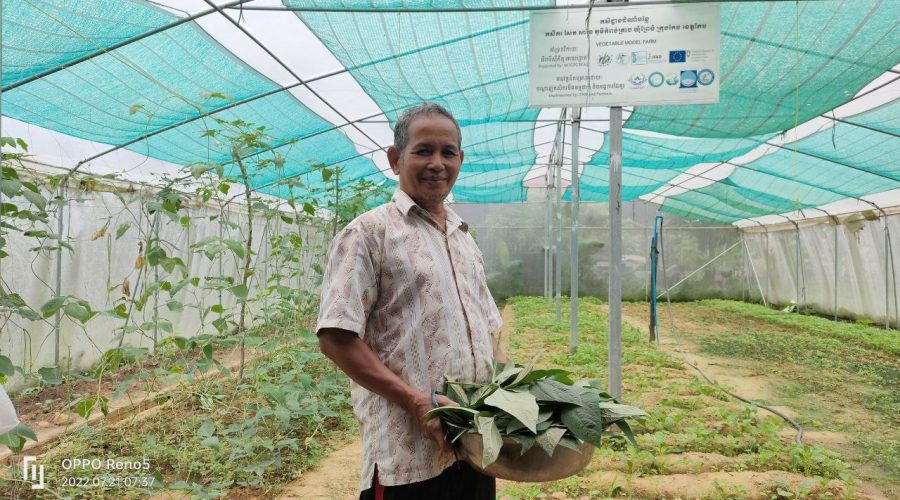 NETHOUSE HELPS SMALLHOLDERS IN RURAL CAMBODIA TO BE RESILIENT TO CLIMATE CHANGE AND SUSTAINABLE FOOD SYSTEMS!
Smallholders in rural Cambodia live depend much on agriculture from their small scale farm with meagre income to survive the family members, however small scale farms are not profitable if farmers apply traditional practices. Climate change is threatening farmers while there is no well early warning systems, irregular and quick changes of weather patterns, flood and drought always confused farmers from their notices and also a prepared cropping calendar in these last decades.
Mr. Seth Sarin a farmer and chairman of the Tumnup Ang Agricultural Cooperative in Kep province, south of Cambodia grow integrated crops on his small farm with net house that CFAP provided his family under the framework of the project Asia Pacific Farmers' Program (APFP) funded by IFAD and EU through AFA and LVC as the regional implementing agencies (RIA). Mr. Sarin's family grow long bean, lettuces, edible amaranth and some other crops in a rotation system. In average, I can earn about 300000 riels or USD75 per season from integrated vegetables, especially the edible amaranth said Mr. Sarin.
According to Mr. Sarin, growing vegetable in the net house the vegetable/crops grow well with higher yield of about three times compared to growing vegetable leaves on the open space. It is the fact that growing vegetable, especially vegetable leaves in the net house can protect from a wide ranges of threats from climate change i.e. high temperature, heavy rain, pests, diseases and animals from destroying the vegetable and vegetable grow fast. However, the net house costs money to construct and it is hard for smallholders to afford. He said members of his cooperative wanted more net houses from donors to enable them to increase safe vegetable production to supply markets regularly collectively in a bigger amount in the future, thus to attract young farmers to stay in agriculture.
He and his farmer members want to grow in a year round for sales to the cooperative, then the cooperative will process/package for supplying markets collectively.