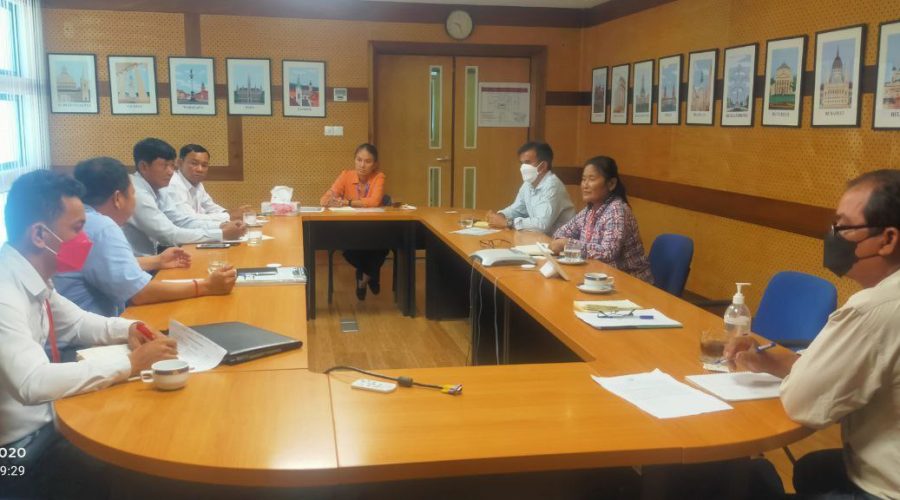 MEMBERS OF THE NATIONAL FARMERS' ORGANIZATION PLATFORM IN CAMBODIA MET THE EU DELEGATION IN CAMBODIA!
On 23rd June 2022, CFAP's Chairman Mr. Prum Samat and some other farmer leaders as a member of the National Farmers; Organization Platform (NFOP) in Cambodia had a meeting with the European Union Delegation to Cambodia to explore collaboration opportunity between the EU and farmers' organizations in Cambodia.
During the meeting our farmers' delegate was sharing about ongoing projects funded by IFAD and EU in the framework of the project "APFP, FO4A and ARISE", mainly to strengthen FOs services development, policy engagement and small scale business strengthening at sub national level with smallholders in rural areas.
Our delegates of the farmers' organizations had also updated action plans, documentation, achieved results and challenges faced by farmers and farmers' organizations on climate change, covid-19 and Ukraine-Russia war that affected smallholders while the prices of agri-inputs have increased higher which smallholders are hard to afford to continue their farming, especially youth and women as they are key farmers in agricultural development to encourage them to stay in agriculture.
Ms. Bee Sokhunthea, a director of agriculture value chain and food systems on behalf of EU delegation in Cambodia had a good exchanges with farmers' group. She said, EU has supported processing/packaging and market value chain that can contribute to sustain environment. The meeting aimed at seeking for collaboration opportunity and support from EU in Cambodia on new agricultural practices that are not affecting to environment and reforestation as well. Capacity building for farmers and farmers' organizations to be professional to work for farmer members. Moreover, knowledge on packaging/processing were discussed and sharing concerns of farmers, farming communities and farmers' organizations in the current context that affected by climate change, covid-19 and increased prices for agri-inputs caused by the Ukraine and Russia war and so on.