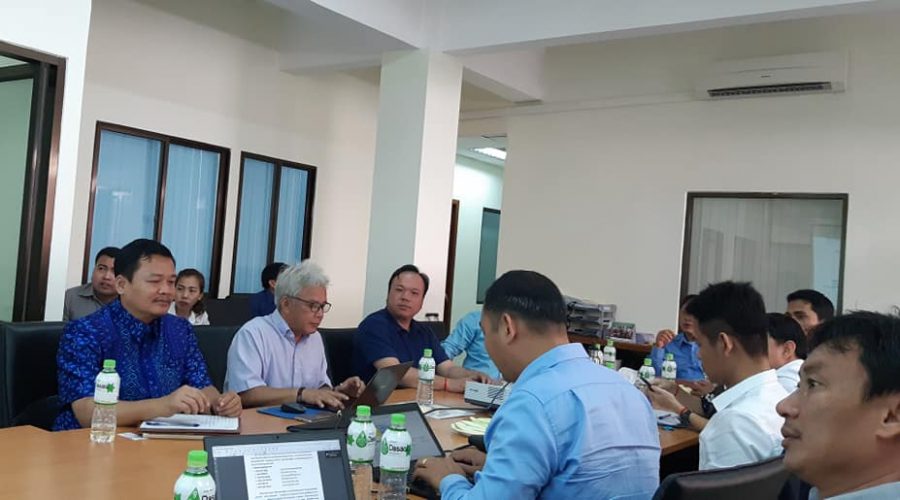 Meeting at the general directorate of domestic commerce of the Ministry of Commerce!
The Accelerating Inclusive Markets for Smallholders (AIMS) is a joint project between the Royal Government of Cambodia (RGC) and the International Fund for Agricultural Development (IFAD). The project, therefore it intends to accelerate the inclusive growth of markets and for higher value agricultural products and the development of associated local clusters through which poor smallholder producers can benefit alongside others. The Accelerating Inclusive Markets for Smallholders (AIMS) is a six-year project, effectively from 28th February 2017 with an expected completion date of 31st March 2023. The Accelerating Inclusive Markets for Smallholders (AIMS) is implemented by the Royal Government of Cambodia (RGC), led by the Ministry of Commerce (MOC), with various implementing partners and is expected to have total combined funding from the Royal Government of Cambodia (RGC) and IFAD equivalent to approximately USD45 million (IFAD loan of USD36.3) for a period of six years (2017-2023). CFAP Cambodia was involved in this project design after positive consideration of IFAD with support from the RGC to involve the national farmers' organisation like CFAP as the national farmers' organisation that the association works directly with sub-national farmers' organisations and producer members as smallholders in the IFAD projects. The project will have the mandate to operate in all parts of the country, with actual locations determined by the selection of priority value chains and the associated areas engaged in the value chains from production to the markets. AIMS' primary target beneficiaries will be smallholder farm households, including poor and near poor farmers (for details see criteria in a separate paper). In addition, secondary target groups are the other primary and secondary actors in the value chains, including inter alliance such as producer associations, agricultural cooperatives, Micro Small & Medium Enterprises (MSMEs), agribusinesses, service enterprises, producer groups and industrial associations. AIMS will have initial starting set of value chains confirmed as: 1) vegetables, 2) backyard chicken, 3) quality assured rice, 4) cassava and 5) raw silk. New value chains would however be considered in year two (Year 2 i.e. 2019) as they were found to have sufficient production and market demands. A certified logo to assure the qualified products of smallholder farmers within the target project areas was developed and designed by AIMS in 2019 for sticking on all assured and qualified products prior supplying markets.
The Cambodian Farmer Federation Association of Agricultural Producers (CFAP Cambodia) has provided services as Hub Farmer Facilitator aimed to engage producers' associations/cooperatives with buyers/traders at the operational project areas. The meeting participated by the project manager, relevant project management officers, project consultant, private sector and national farmers' association. The project manager made a presentation about the progress of achieved results and evaluation about the services provided by stakeholders included CFAP and new TOR for promoting current position of CFAP as Hub Farmer Facilitator into the Value Chain Investment (VCI) in the coming period.