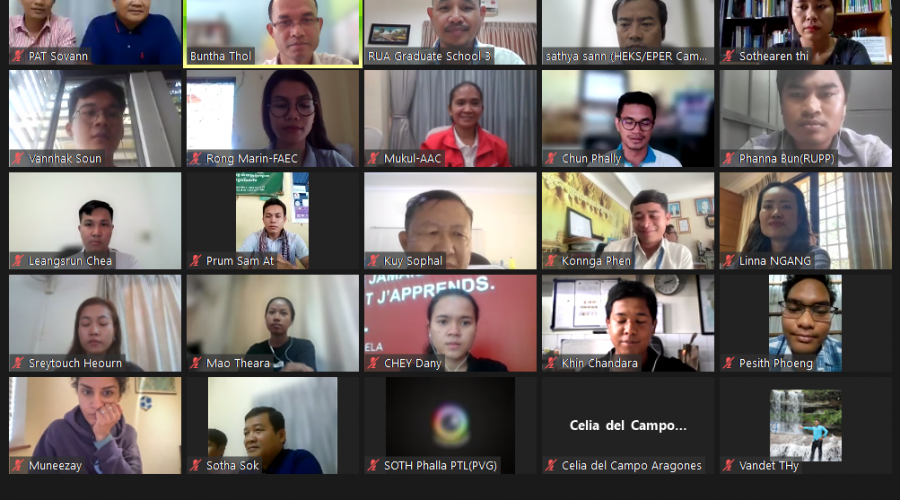 KNOWLEDGE AND EXPERIENCES THEMATIC SHARING WORKSHOP FOR FRESH GRADUATED STUDENTS AND ALISEAS MEMBERS IN CAMBODIA!
On March 27, 2023, Mr. Sok Sotha, A Managing director of the Cambodian Farmer Federation Association of Agricultural Producers – CFAP Cambodia in collaboration with the Agro-ecology Learning Alliance in South East Asia (ALiSEA) Secretariat, represented by DPA, GRET facilitators and Board members from ECOLAND and DCA had facilitated the thematic workshop to share knowledge and experiences on Agroecology in Cambodia.
There were 39 participants, fresh graduated students and representatives from various institutions, participated in the thematic knowledge sharing workshop which aimed to present and share knowledge and experiences on agroecology and food safety systems in Cambodia, including agroecology principles. Importance and implementation of agroecology in Cambodia.
/////
នៅថ្ងៃទី២៧ ខែមីនា ឆ្នាំ២០២៣ លោក សុខ សុថា នាយកគ្រប់គ្រងនៃសមាគមអ្នកផលិតកសិកម្មកម្ពុជា – CFAP Cambodia សហការជាមួយលេខាធិការដ្ឋាន Agro-ecology Learning Alliance in South East Asia (ALiSEA) លេខាធិការដ្ឋានតំណាងដោយអ្នកសម្របសម្រួល DPA, GRET និងសមាជិកក្រុមប្រឹក្សាភិបាលមកពី ECOLAND និង DCA បានដឹកនាំសម្របសម្រួលសិក្ខាសាលាលើប្រធានបទ ដើម្បីចែករំលែកចំណេះដឹង និងបទពិសោធន៍លើវិស័យកសិកម្មអាក្រូអេលូឡូស៊ី នៅកម្ពុជា។
សិក្ខាសាលានោះមានសិក្ខាកាមចំនួន៣៩នាក់ ដែលជានិស្សិតទើបបញ្ចប់ការសិក្សា និងតំណាងមកពីស្ថាប័នផ្សេងៗ បានចូលរួមក្នុងសិក្ខាសាលាចែករំលែកចំណេះដឹងនូវប្រធានបទខាងលើ ដែលមានបំណងធ្វើបទបង្ហាញ និងចែករំលែកចំណេះដឹង និងបទពិសោធន៍លើប្រព័ន្ធកសិកម្ម អាក្រូអេលូឡូស៊ី និងសុវត្ថិភាពចំណីអាហារក្នុងប្រទេសកម្ពុជា រួមទាំងគោលការណ៍កសិកម្មផងដែរ។ សារៈសំខាន់ និងការអនុវត្តនៃកសិកម្មអាក្រូអេលូឡូស៊ីនៅកម្ពុជា។