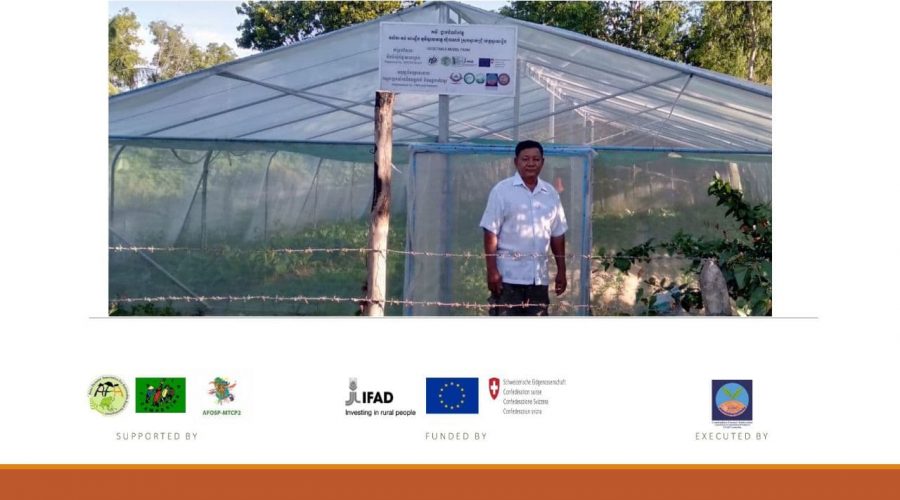 How can small scale farmers adapt to resilient agriculture?
Due irregular changes of climate conditions in these last three decade in Asia particularly in South East Asia, Cambodian farmers faced lots of problems on agricultural production where farmers, especially small scale farmers that represent about 80% of total population in the country live depend on agriculture and rainfall with the temperature varies from 25 Degree Celsius to 35 Degree Celsius in rainy season (May to October), and higher in dry season (November to April).
Since 2002 onward, CFAP has promoted agroecological practices by training farmers at the target farming communities to use resources that they can find in the villages to make compost and use on their small scale farms. Due shallowing and disappearing of water sources such as rivers, lakes and canals, therefore CFAP has further strengthening farmers on climate smart agriculture (CSA) by intervention to provide household pond, chicken house and net house for vegetable production improvement to ensure that small scale farmers can continue their farming activities to survive their family and also doing farming for businesses. Due increased safe and healthy food demands now and in the future, therefore CFAP is seeking for collaboration opportunity with development partners and private sector to find better ways that can integrate agroecological practices and climate smart agriculture to ensure that both can contribute to sustainable agriculture to reach the food systems and demands.
Mr. Kong savoeurn, a farmer lives in Svay Ta Phlor village, Basac commune, Svay Chrum district, Svay Rieng. He is a member of BASAC agricultural cooperative as CFAP's member in Svay Rieng province is one of those farmers that received a net house to grow multi leaves and root vegetables which are resilient to climate change.
Savoeurn said, his vegetables can grow better with improved yields higher than before. Growing in the net house can protect vegetables from threats of diseases, pests, poultries, animals, high temperature and heavy rain. By receiving the net house, he can grow multi leaves and root vegetables in a year round to survive his family and sales to consumers for household incomes regularly in a year round.
Savouern welcome other farmers that wanted to visit his small scale farm and he appreciates to share knowledge on growing vegetables in the net house.