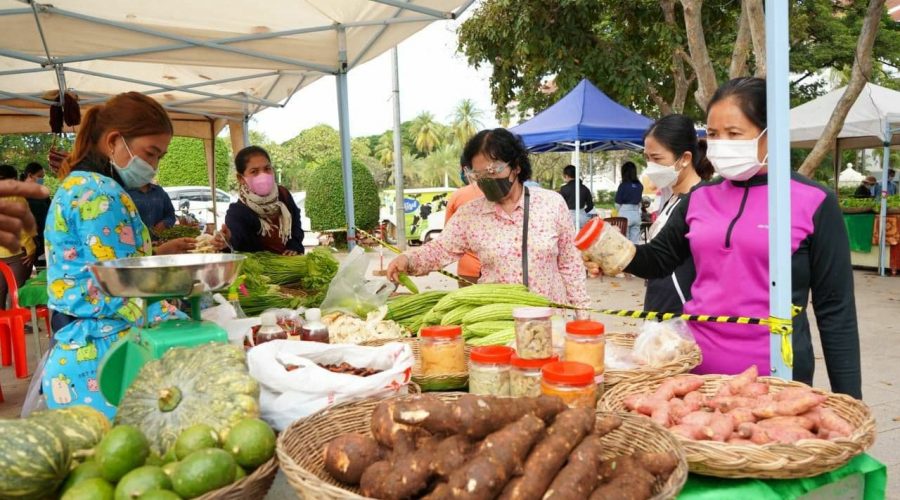 Floating market plays key role to engage local produces to markets in the Covid-19!
The Cambodian Farmer Federation Association of Agricultural Producers (CFAP) is proud to be involved in the project designed which agreed by the Royal Government of Cambodia with support from the International Fund for Agricultural Development (IFAD) to be a part of the project and play a role as the Value Chain Investment Specialist (VCIS) for the regional hub office in North West of Cambodia. In this engagement, CFAP has played key role to orient the project to farmer members and member associations and agricultural cooperatives at the countrywide to enable them to get access to involve in the project at ground level further to our responsibilities on organizing a multi stakeholder platform/event, Sector Development Facilities (SDF) consultation meeting with actors in the value chains, Sector Development Facilities (SDF) proposal development for farmer groups/Producers' organizations (POs), Value Chain Innovation Fund, Window-1 (VCIF-W1) proposal development, Value Chain Innovation Fund, Window-2 (VCIF-W2) proposal development, Meetings with value chain actors, Contract arrangement for sales and purchases between farmers and buyers, help facilitation the weekly markets at all target provinces and some other related businesses of the project with farmers and stakeholders in the value chains at the regional hub. The weekly markets and or floating markets play important role additionally valuably to the project on linking farmers to markets as the markets helped promoting farmers' produces known to the public well.
The Accelerating Inclusive Markets for Smallholders (AIMS) is a joint project between the Royal Government of Cambodia (RGC) and the International Fund for Agricultural Development (IFAD). The project also participated by private sector, development partner, beneficiaries and national farmers' organisations. The project, therefore it intends to accelerate the inclusive growth of markets and for higher value agricultural products and the development of associated local clusters through which poor smallholder producers can benefit alongside others.
The Accelerating Inclusive Markets for Smallholders (AIMS) is a six-year project, effectively from 28th February 2017 with an expected completion date of 31st March 2023.
The Accelerating Inclusive Markets for Smallholders (AIMS) is implemented by the Royal Government of Cambodia (RGC), led by the Ministry of Commerce (MOC) for both components i.e. value chain development (VCD) for component 1 and value chain financing (VCF) for component 2, with various implementing partners and is expected to have total combined funding from the Royal Government of Cambodia (RGC) and the International Fund for Agricultural Development (IFAD).
According to the project design of IFAD and the RGC, therefore the project will have the mandate to operate in all parts of the country, with actual locations determined by the selection of priority value chains and the associated areas engaged in the value chains from production to the markets.
AIMS' primary target beneficiaries will be smallholder farm households, including poor and near poor farmers (for details see criteria in a separate paper). In addition, secondary target groups are the other primary and secondary actors in the value chains, including inter alliance such as agricultural cooperatives, farmers' associations, Micro Small & Medium Enterprises (MSMEs), agribusinesses, service enterprises/service providers and industrial associations (resources: AIMS).
The project focused on 1) vegetables, 2) backyard chicken, 3) quality assured rice, 4) cassava and 5) raw silk. New commodities and value chains would be considered base on market demands with sufficient commodities and market value chains and necessarily needed of the project.
A certified logo of the AIMS project to assure the qualified products of smallholder farmers within the target project provinces was developed and designed by AIMS in 2019 for use as a label for sticking on all assured and qualified products prior supplying markets for farmer associations, agricultural cooperatives and producer farmer groups involved in the AIMS project. Since 2020, the floating markets (Weekly markets) have initiated and opened accordingly at all three target hub regions, now in full in Cambodia and replicated by provinces in the cluster of the satellite hub offices respectively with active participation and support by producer farmer groups, farmers' associations, agricultural cooperatives, development partners and local business people/traders as well as local authorities. CFAP's members and family farmers in network of CFAP at all target provinces were facilitated to involve in the program, thus they can learn from the program on the market value chains, trading on agricultural products, communication with traders, linking their produces to markets, access to finance and vice versa forward sustainability and collaboration.
CFAP Cambodia was involved in this project design after a positive consideration of IFAD with support from the Royal Government of Cambodia (RGC) to involve the national farmers' association like CFAP as the producers' association that works directly with sub-national farmers' associations, agricultural cooperatives and producer farmer groups that represent smallholders in most IFAD supported projects in Cambodia. Most family farmers, farmers' associations and agricultural cooperatives as CFAP's members in the AIMS target provinces have involved in the project accordingly with active facilitation and dissemination from CFAP's central office by means of in persons meetings, virtual meetings and digital working groups (Messenger group, Telegram groups, WhatsApp groups, Apps, Facebook and Website) to introduce and orientate about the project to all farmers' associations, agricultural cooperatives and family farmers as members in 12 target provinces and non-members at the national farmers' organisation platform (NFOP). In this reporting period, we are still facing challenges on travel restriction as well as health measures following the 3 does 3 don't of the Ministry of Health (MOH) while the country is threatening by COVID-19 pandemic, therefore long-distance calls and virtual meetings have played key means for communication with farmers, staff members and relevant stakeholders in the project value chains, though it doesn't work like in person meeting, however it is better to do so after the Royal Government of Cambodia (RGC) had reopened the country last November 30, 2021 till this reporting period. Though, the country has reopened, but we still follow health's measures of the Ministry of Health (MOH) on our work places included conduction of the multi stakeholders platform (MSP) events, meetings with service providers, meetings with private sector, value chain innovation fund (VCIF)s' proposals development and meetings with farmers, value chain innovation fund (VCIF)s' fund releases for 2020 – 2021, Sector Development Facility (SDF) 2020 – 2021, facilitation the floating markets (every week), following up activities at the target areas and meetings with relevant stakeholders in the value chains accordingly.
Since 2021 AIMS had organized further activities included field business model learning exchange visits amongst AIMS target provinces to learn and exchange on vegetable production and chicken production amongst the five commodities of the project. CFAP staff members (VCIs) based in four provinces (Battambang, Banteay Meanchey, Pailin and Siem Reap) had facilitated with farmers to join in these learning model and exchange visits. We could evaluate that this learning model would help greatly to smallholders to exchange their experiences and knowledge as well as markets issues for improvement better in the future when they back home.
In 2022 AIMS has focused more on market value chains and connection farmers to markets, however capacity building for both farmers and staff members of farmers' organization at sub-national and national levels like CFAP needed to strengthen accordingly to have achieved the common goal of the project. This project at the regional hub NW So far, there are 346 producer organizations engaged, 288 clusters of producers, 412 value chain groups, 260 contracts in general with 14286 farmers involved in the project to produce for sales to local traders.
CFAP wanted to find a better way to engage farmers to producer associations and agricultural cooperatives for collective sales and purchases, therefore after the project completion, then farmers can continue to produce and sell regularly to the collection centers with sustainability with improved arrangement of the market value chains by farmers and farmer organizations. Cambodia farmers are smallholders and they are not capable to make used of existing opportunity to engage their produces to markets regularly by themselves and they needed external funding support and good business action plan to upscale.