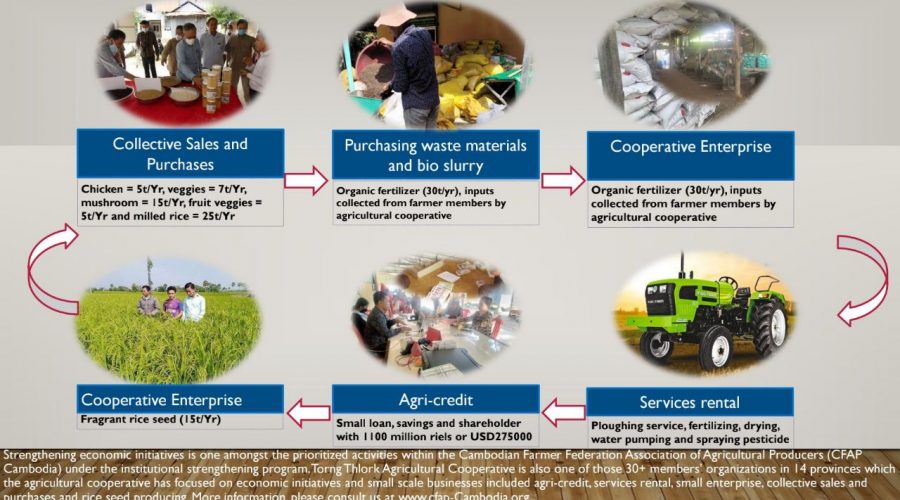 Economic initiative is key toward sustained agriculture, sustained food systems and better livelihood of the rural communities!
Torng Thlork Rik Chamroeurn Agricultural Cooperative found in 2007 by farmers in the community with founding members of 197, 93 females. The cooperative covered in four villages, one commune and one district in Svay Rieng province. The cooperative focus on (1). Savings, (2). Use of a revolving fund, (3). Rice seed production (fragrant rice), (4). Chicken production, (5). Veggies, (6). Organic Mushroom production and (7). Organic fertilizer production.
Torng Thork Agricultural Cooperative has Vision, Mission and Objective as follow:-
Vision:
The TONG THLOK RIK CHAMROEUN Agricultural Cooperative wants to see community has food security, people leave from poverty, hunger, illiteracy and discrimination, and access solidarity and cooperation among people from local community to national and international levels.
Mission:
To strengthen the community forward sustainability in the future
To strengthen and foster the rural communities in the framework of standing in social justice, equity and mutual autonomy in good collaboration with stakeholders such as donors, development agencies and the government in operational areas.
Help farmers access to farmer and farmer cooperation, access to income properly from agriculture, non- agriculture and handicrafts with regular markets​
Strategic Objective:
Staff members, Committee members and farmer leaders have sufficient skills to provide services to farmer members in the rural communities in the future.
Has a strong, sustainable producer team with sustainability ​
Farmers in rural communities will change and improve their livelihood without hunger in the future
Farmers have the opportunity to exchange knowledge and experiences from other members inside and outside country. Covid-19 pandemic has also threatened to the growth of the cooperative, however the cooperative has to find a better solution by increasing productions for collective supplying markets. The cooperative wish to expand stronger business at the nationwide in collaboration with all members of CFAP at all target provinces in Cambodia toward self financial sustainability in the near future. Currently, the cooperative sell vegetable, mushroom, chicken and rice seeds to clients in Svay Rieng province and collectors for supplying markets in Phnom Penh. Organic fertilizer sell to farmer members and non members at target areas. PRUM Samat, chairman of the cooperative and also Chairman of CFAP said, it was hard at first to explain members of what the cooperative was. Farmer members first think that cooperative is NGO which give free things for them and they also expected something from the cooperative as well when they firstly registered as members of the cooperative. He continued, we tried to explained members about the importance of agricultural cooperative and the cooperative own by farmer member, so it would be good if you can gather together and think together to find solution for our farmer members to have better living conditions, thus to create jobs for our farmers, especially young farmers in the future "Together we can create businesses and agricultural cooperative is some kind of a business". He is proud that the cooperative now has more than 1100 million riels or USD27500 to operate small business with farmer members.

Strengthening economic initiatives is one amongst the prioritized activities within the Cambodian Farmer Federation Association of Agricultural Producers (CFAP Cambodia) under the institutional strengthening program. Torng Thlork Agricultural Cooperative is also one of those 30+ members' organizations in 14 provinces which the agricultural cooperative has focused on economic initiatives and small scale businesses included agri-credit, services rental, small enterprise, collective sales and purchases and rice seed producing.