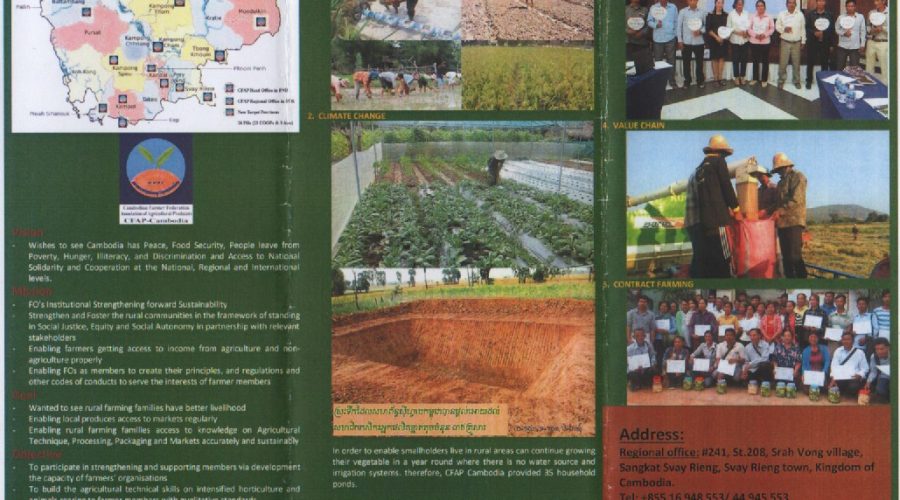 CFAP's key activities with smallholder farmers in Cambodia
In order to improve the livelihood of smallholder farmers live in rural areas through agricultural and small scale businesses related in agriculture, therefore CFAP has continued its mission to help smallholder farmers to continue their farming activities in a year round by enabling them access to water source. CFAP Cambodia provided 35 household ponds so far, most farmers use to grow vegetable and raising fish while some of them use mainly for vegetable growing. There were twelves exposure farms at twelves producer associations and cooperatives set up with net houses to protect sunshine, heavy rain and strong wind as well as pests to ensure that smallholders can grow vegetable and crops in severe climate conditions now and in the future, farmers must be ready. in 2020 there are three more net houses provided to three households.
Soil testing is very important for smallholder farmers in Cambodia as 99.9% can not get access to soil testing, that's why smallholder farmers always failed in doing agriculture in Cambodia, their yield is up and down. CFAP is focusing more on this matter included use of water and water management. Workshop to share knowledge on agriculture, soil quality, seed quality, markets and agricultural policy is very necessarily for smallholder farmers in Cambodia.
CFAP focuses on:
#Agriculture
#Climate Change
#Policy
#Value Chain
#Contract Agreement