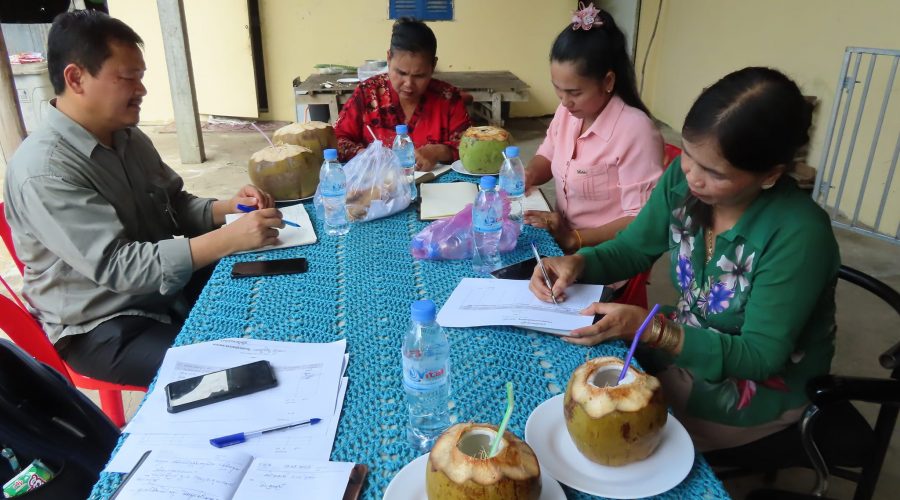 CFAP CONDUCTED FIELD VISITS TO MEET SMALLHOLDERS AS MEMBERS BEYOND THE THREATS OF COVID-19 AND DISCUSS ON VOLUNTARY CARBON MARKETS!!
On Saturday, August 19, 2023, the Cambodian Farmer Federation Association of Agricultural Producers (CFAP Cambodia) conducted the visits to meet with several members' organizations at the community level in Svay Rieng province to discuss challenges faced by members' organizations, their solution and on going activities. During the meetings, CFAP's head of management had exchanged ideas and point of views with members on business plans, challenges around human resources, capital, market and production of smallholders beyond Covid-19. Moreover, the meeting discussed about action plans, business of members and market action plans for 2024.
In addition, the discussion also highlighted to promote the voluntary carbon market to smallholders and their impression to participate in activities this year and in next three years in order to help farmer members to have additional incomes to support their family as well as their livelihoods better through the CRU. Farmers got high interests to this initiative.
/////
នៅថ្ងៃសៅរ៍ ទី១៩ ខែសីហា ឆ្នាំ២០២៣ សមាគមសហព័ន្ធកសិករកម្ពុជានៃអ្នកផលិតកសិកម្ម (CFAP Cambodia) បានដឹកនាំដំណើរទស្សនៈកិច្ចជួបជាមួយអង្គការសមាជិកមួយចំនួននៅកម្រិតសហគមន៍ក្នុងខេត្តស្វាយរៀង ដើម្បីពិភាក្សាពីបញ្ហាប្រឈមរបស់អង្គការសមាជិក ដំណោះស្រាយ និង លើសកម្មភាពដែលកំពុងដំណើរការ។ ក្នុងកិច្ចប្រជុំនេះ ប្រធានគ្រប់គ្រងរបស់ CFAP បានផ្លាស់ប្តូរយោបល់ និងទស្សនៈជាមួយសមាជិកអំពីផែនការអាជីវកម្ម បញ្ហាប្រឈមជុំវិញធនធានមនុស្ស ដើមទុន ទីផ្សារ និងការផលិតម្ចាស់អាជីវកម្មខ្នាតតូចលើសពី Covid-19។ លើសពីនេះទៅទៀត កិច្ចប្រជុំបានពិភាក្សាអំពីផែនការសកម្មភាពអាជីវកម្មរបស់សមាជិក និងផែនការសកម្មភាពទីផ្សារសម្រាប់ឆ្នាំ២០២៤ ។
លើសពីនេះ កិច្ចពិភាក្សាក៏បានគូសបញ្ជាក់ផងដែរ ដើម្បីលើកកម្ពស់ទីផ្សារកាបូនស្ម័គ្រចិត្តដល់កសិករខ្នាតតូច និងចំណាប់អារម្មណ៍របស់ពួកគេក្នុងការចូលរួមក្នុងសកម្មភាពក្នុងឆ្នាំនេះ និងរយៈពេលបីឆ្នាំខាងមុខ ដើម្បីជួយសមាជិកកសិករមានប្រាក់ចំណូលបន្ថែមសម្រាប់ផ្គត់ផ្គង់គ្រួសារ ក៏ដូចជាជីវភាពរស់នៅកាន់តែប្រសើរឡើង តាមរយៈ CRU ។ កសិករទទួលបានចំណាប់អារម្មណ៍ខ្ពស់ចំពោះគំនិតផ្តួចផ្តើមនេះ។