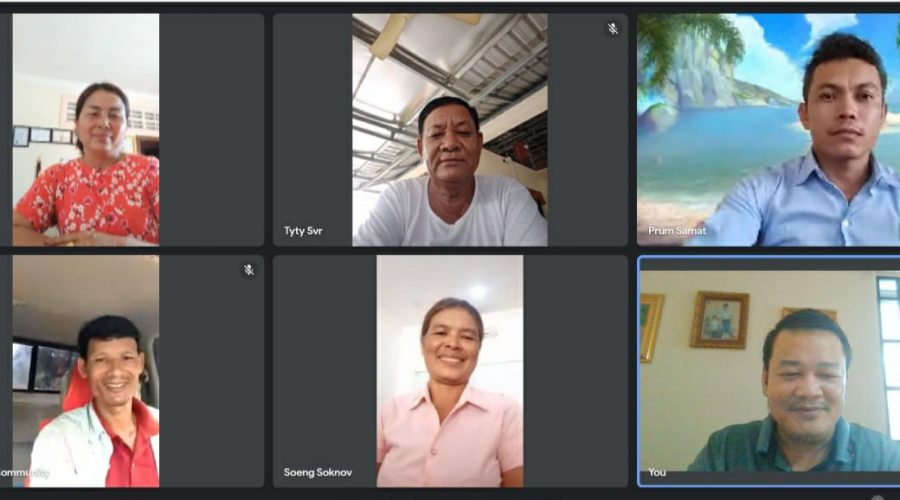 On Saturday 9 July 2022 at 10:00am (Cambodia time), cfap organized a board meeting to review progress of a previous board decision making on organizational strengthening to work for members effectively. The meeting has also reviewed the strengthening of members' organizations on organizational and financial management to improve and upgrade from a manual financial reporting to a computerized financial reporting for first five active members' organizations on businesses and engaging local produces to markets. This project is expected to fund by APFP-FO4A in 2021. Due needs of members' organizations to improve their capacity on financial and organizational management as well as accelerating of small scale businesses of farmers' organizations and to upgrade their businesses better, therefore the boards have also discussed on enabling members' organizations to finance and finance to ensure that farmers' organizations can work effectively for farmer members and connection farmer members' produces to markets exactly, not just only planning, but actions needed. There is still wondering whether ARISE enable farmers' organizations that are not a member of afa to apply for loan in Cambodia, it is required to ask afa to clarify to a void any confusion to discuss on the topic, if it is possible, then cfap should do.
According to the boards, most members' organizations needed external interventions both consciousness and funding support to ensure the organizations can sustain, especially in this difficult situation that we as smallholders are facing problems on covid-19, climate change and Ukraine-Russia war.
cfap's managing director, sok sotha shared results of participation in the WFO GA held in Budapest, Hungary last 7-10 June, 2022 that there was a great opportunity to meet with new international development organizations, private sector and many farmers' organizations come from the six regions worldwide gather together to share knowledge, experiences and finding solutions through policies to support farmers and farmers' constituencies. Knowledge received from a field visit to oyster mushroom farm and a good conversation between cfap's managing director, sok sotha and Mr. Tibor Zaszlos, vice president for agriculture of Hungarian Chamber of Agriculture in Hungary was shared to all board members. The boards agreed to have further discussion between cfap and chamber of agriculture, Hungary to find collaboration opportunity.
managing director's efforts on development contact with a private sector for collective sales and purchases of chicken from cfap's members, now the proposal was agreed by the chairman, Prum Samat and seconded by Cheng Thong a vice chairman of cfap to have developed a memorandum of understanding (MOU) for further discussion amongst cfap and the company for collaboration opportunity.
Regarding to the lateness of money transferred from the APFP-FO4A, now has impacted negatively to cfap's staff members of their salary, the boards has requested cfap to ask fnn as the implementing agency to solve the account payable 2021 and to inform former staff members that were paid by the APFP-FO4A project accordingly to get them informed.
Other businesses such as project development proposals to support farmer members and members' organizations and communication with private sector and international development agencies are on the way forward. The board meeting has came into a conclusion at 12:30PM (Cambodian time).