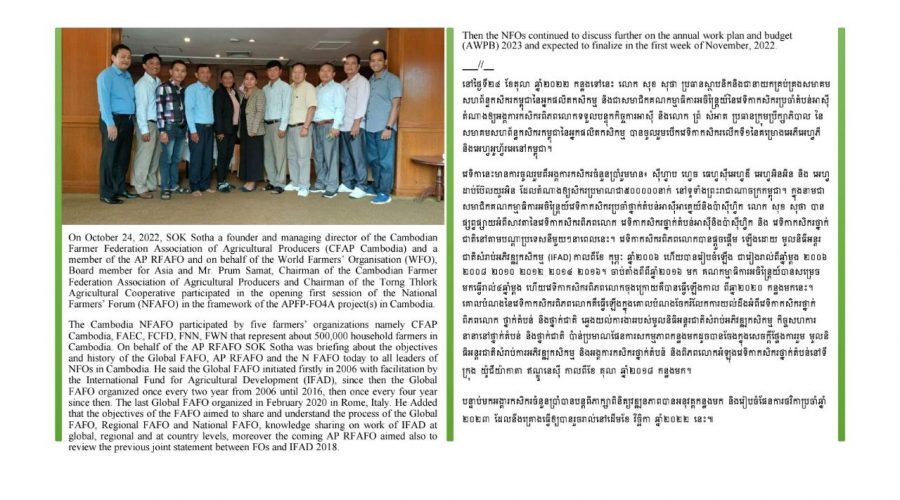 Cambodia National Farmers' Forum!
On October 24, 2022, SOK Sotha a founder and managing director of the Cambodian Farmer Federation Association of Agricultural Producers (CFAP Cambodia) and a member of the AP RFAFO and on behalf of the World Farmers' Organisation (WFO), Board member for Asia and Mr. Prum Samat, Chairman of the Cambodian Farmer Federation Association of Agricultural Producers and Chairman of the Torng Thlork Agricultural Cooperative participated in the opening first session of the National Farmers' Forum (NFAFO) in the framework of the APFP-FO4A project(s) in Cambodia.
The Cambodia NFAFO participated by five farmers' organizations namely CFAP Cambodia, FAEC, FCFD, FNN, FWN that represent about 500,000 household farmers in Cambodia. On behalf of the AP RFAFO SOK Sotha was briefing about the objectives and history of the Global FAFO, AP RFAFO and the N FAFO today to all leaders of NFOs in Cambodia. He said the Global FAFO initiated firstly in 2006 with facilitation by the International Fund for Agricultural Development (IFAD), since then the Global FAFO organized once every two year from 2006 until 2016, then once every four year since then. The last Global FAFO organized in February 2020 in Rome, Italy. He Added that the objectives of the FAFO aimed to share and understand the process of the Global FAFO, Regional FAFO and National FAFO, knowledge sharing on work of IFAD at global, regional and at country levels, moreover the coming AP RFAFO aimed also to review the previous joint statement between FOs and IFAD 2018.
Then the NFOs continued to discuss further on the annual work plan and budget (AWPB) 2023 and expected to finalize in the first week of November, 2022.