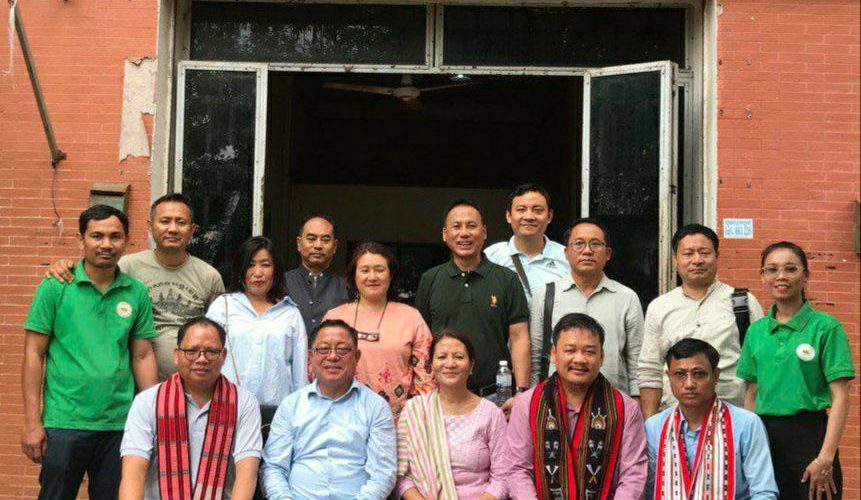 BUSINESS TO BUSINESS MEETING (B2B)!
With a coordination from the Embassy of India in Phnom Penh, on 27th October 2023, CFAP lead founder and chief executive, Sok Sotha had a meeting with the delegation of Agriculture Department, State Government of Nagaland, India lead by Shri M. Ben Yanthan and his 9 senior officials of the Department, State Government of Nagaland during the study tour to Cambodia. The meeting held at Siem Reap Meanchey Melon Association in Siem Reap city.
Both parties had exchanged organizational background and activities respectively with farmer members and smallholders on agricultural activities, agricultural technical protocols, agroecological practices and markets. The parties also discussed on agriculture scenario in Cambodia and future cooperation in agricultural sector.
/////
ដោយមានការសម្របសម្រួលពីស្ថានទូតឥណ្ឌាប្រចាំទីក្រុងភ្នំពេញ នៅថ្ងៃទី២៧ ខែតុលា ឆ្នាំ២០២៣ ប្រធានស្ថាបនិកនិងជានាយកប្រតិបត្តិ CFAP លោក សុខ សុថា បានជួបប្រជុំពិភាក្សាការងារជាមួយគណៈប្រតិភូក្រសួងកសិកម្ម រដ្ឋាភិបាលរដ្ឋណាហ្គាឡង់ ប្រទេសឥណ្ឌា ដឹកនាំដោយលោក Shri M. Ben Yanthan និង មន្ត្រីជាន់ចំនួន៩រូបរបស់នាយកដ្ឋាន រដ្ឋាភិបាលរដ្ឋណាហ្គាឡង់ ក្នុងដំណើរទស្សនកិច្ចសិក្សានៅកម្ពុជា។
កិច្ចប្រជុំនេះធ្វើឡើងនៅសមាគមត្រសក់ផ្អែមសៀមរាបមានជ័យ ក្រុងសៀមរាប ខេត្តសៀមរាប។ ភាគីទាំងពីរបានផ្លាស់ប្តូរប្រវត្តិអង្គការ និងសកម្មភាពរៀងៗខ្លួនក្នុងការធ្វើការងារជាមួយសមាជិកដែលជាកសិករ និងអ្នកផលិតកសិកម្មខ្នាតតូច លើពិធីការបច្ចេកទេសកសិកម្ម ការអនុវត្តកសិកម្ម និងទីផ្សារ។ ភាគីទាំងពីរក៏បានពិភាក្សាអំពីសេណារីយ៉ូកសិកម្មនៅកម្ពុជា និងកិច្ចសហប្រតិបត្តិការនាពេលអនាគតក្នុងវិស័យកសិកម្មនេះផងដែរ។