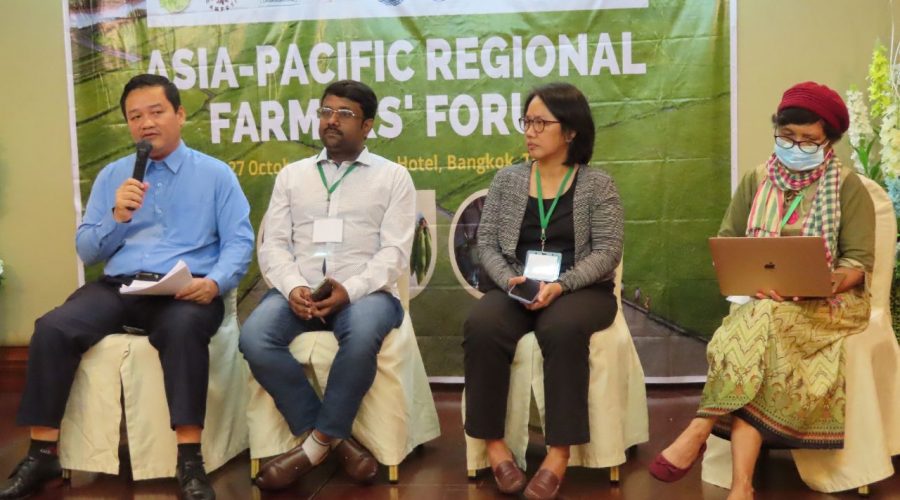 ASIA PACIFIC FARMERS' FORUM!
On 26-28 October 2022 the Asia Pacific Regional Farmers' Forum (AP RFAFO) organized in Bangkok, Thailand which participated by 14 countries in the region. SOK Sotha, a lead founder and managing director of the Cambodian Farmers' Federation Association of Agricultural producers (CFAP Cambodia) and as a member of the Steering Committee (SC) on behalf of the World Farmers' Organization (WFO) for Asia participated in the AP RAFO 2022.
This is the second AP RFAFO in the region since the first AP RFAFO organized in Yogyakarta, Indonesia in October 2018. The Asia Pacific Farmers Forum Steering Committee (AP RFAFO SC) consisted of the Asian Farmers Association for Sustainable Rural Development (AFA), International Organic Farmers Organization (INOFO), La Via Campesina (LVC), Pacific Island Farmers Organizations Network (PIFON), World Forum of Fish Harvesters and Fish Workers (WFF), World Forum of Fishers Peoples (WFFP) and World Farmers Organization (WFO).
The AP RFAFO aimed to share and understand the process of the Global FAFO, Regional FAFO and National FAFO, knowledge sharing on work of IFAD at global, regional and at country levels, moreover the AP RFAFO aimed also to review the previous joint statement between FOs and IFAD 2018 and a joint statement in 2022.