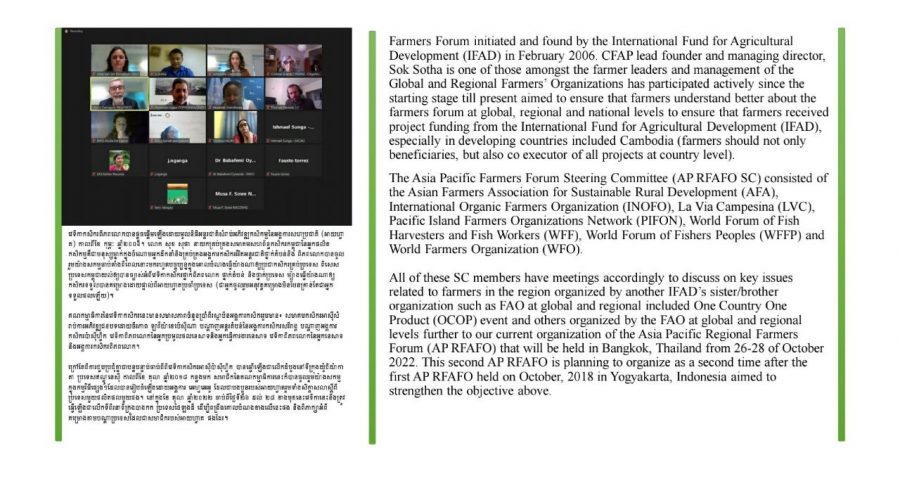 ASIA PACIFIC FARMERS FORUM (AP RFAFO)!
Farmers Forum initiated and found by the International Fund for Agricultural Development (IFAD) in February 2006. CFAP lead founder and managing director, Sok Sotha is one of those amongst the farmer leaders and management of the Global and Regional Farmers' Organizations has participated actively since the starting stage till present aimed to ensure that farmers understand better about the farmers forum at global, regional and national levels to ensure that farmers received project funding from the International Fund for Agricultural Development (IFAD), especially in developing countries included Cambodia (farmers should not only beneficiaries, but also co executor of all projects at country level).
The Asia Pacific Farmers Forum Steering Committee (AP RFAFO SC) consisted of the Asian Farmers Association for Sustainable Rural Development (AFA), International Organic Farmers Organization (INOFO), La Via Campesina (LVC), Pacific Island Farmers Organizations Network (PIFON), World Forum of Fish Harvesters and Fish Workers (WFF), World Forum of Fishers Peoples (WFFP) and World Farmers Organization (WFO).
All of these SC members have meetings accordingly to discuss on key issues related to farmers in the region organized by another IFAD's sister/brother organization such as FAO at global and regional included One Country One Product (OCOP) event and others organized by the FAO at global and regional levels further to our current organization of the Asia Pacific Regional Farmers Forum (AP RFAFO) that will be held in Bangkok, Thailand from 26-28 of October 2022. This second AP RFAFO is planning to organize as a second time after the first AP RFAFO held on October, 2018 in Yogyakarta, Indonesia aimed to strengthen the objective above.