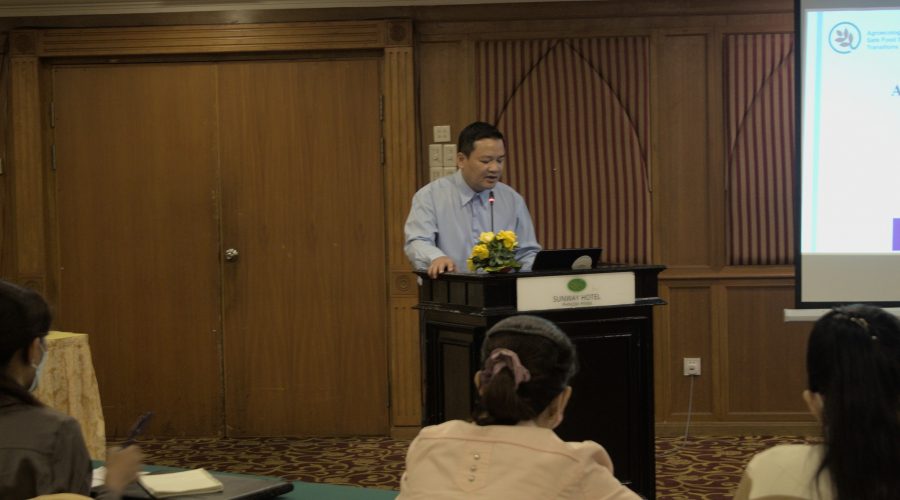 ALiSEA GENERAL ASSEMBLY, 23 NOVEMBER 2022!
On 23 November, 2022 the Agroecology Learning Alliance in South East Asia (ALiSEA) organized the first General Assembly. There were lots of fruitful discussion and exchanges amongst members on criteria for membership registration following by voting, especially individual member, and journalist/media organization. General programmes of ALiSEA included small grant programme. Capacity building, markets and engagement of ALiSEA with existing platform was discussed.
Presentations made by Ecoland and HEKs Cambodia as grant receivers to share progresses of the projects and roadmap of the projects in collaboration with stakeholders to improve agroecology in Cambodia.
Sok Sotha, a founder and managing director of the Cambodian Farmer Federation Association of Agricultural Producers (CFAP Cambodia) and ALiSEA Board of Member on Policy spoke at the opening session of the ALiSEA GA by starting to express his sincere thanks to a good leadership of Ms. Lucie Raynaud of GRET base in Vientiane, LaoPDR for all her dynamic work on ALiSEA in a thoughtful journey to bring all related AE in the sub-Mekong region together. He also thanks to the supported project – ASSET, donors such as AFD, EU, FFEM and the regional secretariat Ms. Manivanh Aliyavong, Pat Sovann, Tik and all board members for all great efforts to accommodate ALiSEA in the right position on agroecology in the Sub Mekong Region, and also thank all members of ALiSEA in Cambodia. According to Mr. Sotha ALiSEA does not play a role as the alliance of AE, but also the knowledge hub which everyone can share, exchange and learn.
He said Agroecology is key to the sustainable agriculture, sustainable food systems and sustainable environment and our planet as a whole. However, it is a big job, and no one can have achieved this goal without working together in a loop.
So far there were various actions conducted such as Knowledge exchange and experience sharing through various thematic workshops, communication through website, Policy dialogue, Development Strategy and Action Plan through various consultation on Agroecology concept and key principle include theory of change workshop, Small Grant Facility Foster Innovations to launch the first call for small grant and broaden partnership with ALiSEA, currently we have Uni4Coop and IFOAM.
He highlighted that Asia represents about 80% of food production come from smallholder farmers, and Cambodia is one of those. Small farmers contribute actively to the sustainable agriculture and food systems, even though farmers need more support on capacity building and getting access to direct financing to expand their farming activities to meet healthy and safe food demands in this challenging period while most rural farming communities in the region are threatening by climate change, war in Ukraine and the pandemic, He added we really need a clear policy on agroecology at the national level and work together to have achieved our journey in the years to come, thus to share our value to reach the common understanding at all levels.