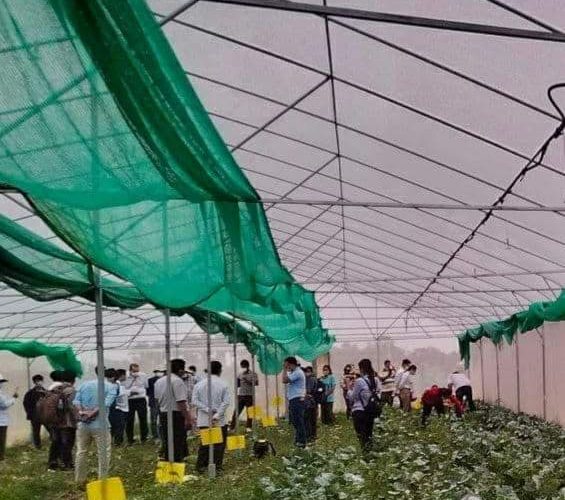 Advanced Vegetable Producing Technology is suitable for smallholders to intensify incomes from small farm size in rural Cambodia!
On 23rd of December 2021 CFAP team of the boards and farmer leaders come from Kampot, Kampong Cham, Siem Reap and Svay Rieng provinces were facilitated by CFAP national secretariat following the invitation and support by GIZ – Implemented Regional Economic Development Program (RED) in collaboration with the provincial department of agriculture, forestry and fisheries – Banteaymeanchey province organized a " Field Day on Advanced Greenhouse Technology".
The field day has reflected what CFAP has been doing to support smallholders at target provinces in Cambodia and it is suitable for smallholders who have small farm size to intensify incomes better with higher yield compared to those traditional and or normal practices in order to enable farmers, especially smallholders to improve agricultural productivity with sustainability and resilience to the climate change. However, investment costs on greenhouse – technology is very expensive for smallholders and they need external funding support because at the start it costs money for smallholders and they are not able to afford without external funding.
We would like to thank GIZ for supporting our farmers to attend the event for learning on greenhouse – technology further for vegetable producing and extension knowledge to farmer members. During the field day – our farmers met greenhouse operators, greenhouse construction companies and information on cost calculation and technical matters.
#GIZ
#CFAP