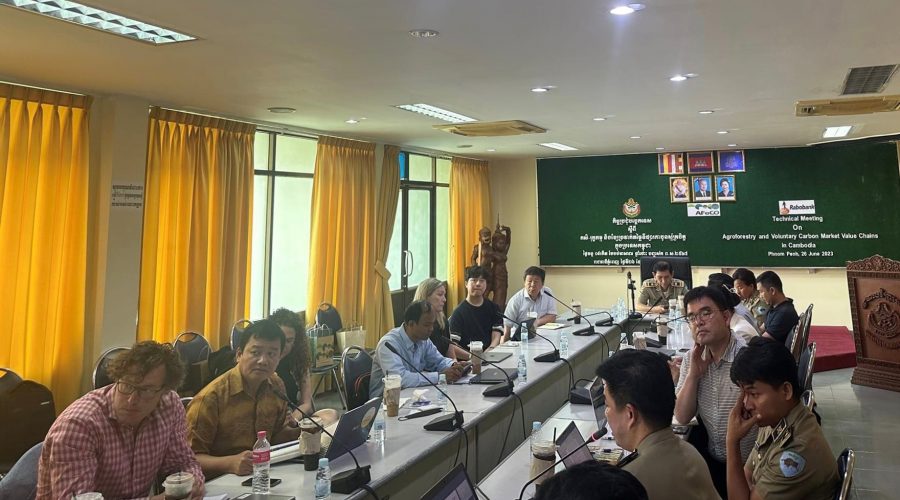 TECHNICAL MEETING ON AGROFORESTRY AND VOLUNTARY CARBON MARKETS VALUE CHAIMS IN CAMBODIA!
On June 26, 2023, at the Forestry Administration of Ministry of Agriculture Forestry and Fisheries (MAFF) organized a Technical Meeting on Agroforestry and Voluntary Carbon Markets Value Chains in Cambodia.
The meeting was attended by H.E Chan Phaloeun, Undersecretary of State, Ministry of Agriculture, Forestry and Fisheries, Deputy Director General of Forestry Administration, Representative of the Council for Agricultural and Rural Development (CARD), Representative of the Ministry of Environment, CFAP Cambodia AFoCO, Acorn and SNV.

The meeting aimed to exchange experiences and projects/programs on a voluntary carbon market, presented to each other to exchange views and find common collaboration opportunity in the future.
/////
នៅថ្ងៃទី២៦ ខែមិថុនា ឆ្នាំ២០២៣ នៅរដ្ឋបាលព្រៃឈើនៃក្រសួងកសិកម្មរុក្ខាប្រមាញ់ និងនេសាទ (MAFF) បានរៀបចំកិច្ចប្រជុំបច្ចេកទេសស្តីពីកសិ.រុក្ខកម្ម និងខ្សែសង្វាក់តម្លៃទីផ្សារកាបូនស្ម័គ្រចិត្តនៅកម្ពុជា។ កិច្ចប្រជុំនេះមានការចូលរួមពី លោកជំទាវ ចាន់ ផលឿន អនុរដ្ឋលេខាធិការក្រសួងកសិកម្ម រុក្ខាប្រមាញ់ និងនេសាទ អគ្គនាយករងរដ្ឋបាលព្រៃឈើ តំណាងក្រុមប្រឹក្សាអភិវឌ្ឍន៍កសិកម្ម និងជនបទ (CARD) តំណាងក្រសួងបរិស្ថាន CFAP កម្ពុជា។ AFoCO, Acorn និង SNV ។
កិច្ចប្រជុំនេះមានគោលបំណងផ្លាស់ប្តូរបទពិសោធន៍ និងគម្រោង/កម្មវិធីលើទីផ្សារកាបូនស្ម័គ្រចិត្ត បង្ហាញជូនគ្នាទៅវិញទៅមក ដើម្បីផ្លាស់ប្តូរទស្សនៈ និងស្វែងរកឱកាសសហការរួមគ្នានាពេលអនាគត។