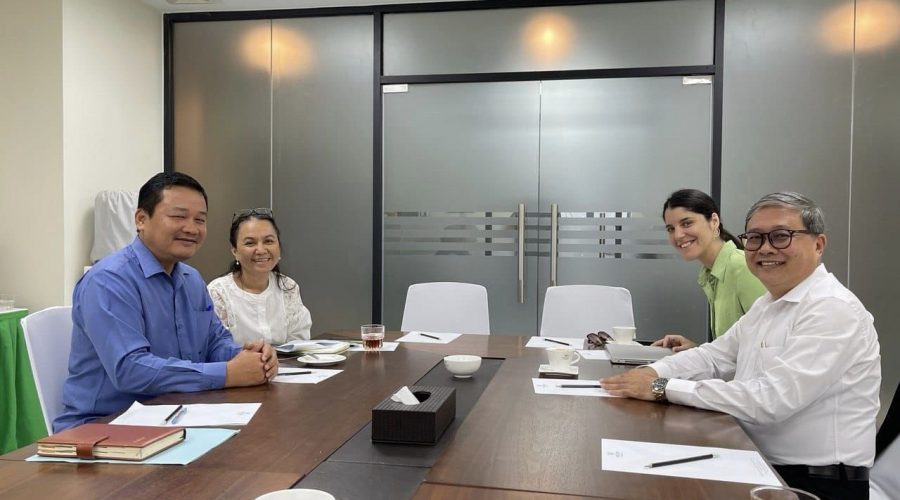 2ND ASSET ANNUAL PARTNERSHIP WORKSHOP!
On June 19-20, 2023, Mr. Sok Sotha, Managing Director of the Cambodian Farmer Federation Association of Agricultural Producers (CFAP Cambodia) and a member of the Board of Directors of the Agroecology Learning Alliance in South East Asia (ALiSEA), be responsible for Policy Dialogue, attended the Second ASSET Annual Partnership Workshop.

The purpose of this workshop is to share information and discuss: 1. Site-based learning activities (projects) in each country, focusing on selected activities and preliminary results, 2. Processing and Data management processes, 3. Regional household measurements and preliminary results, 4. ASSET training program and monitoring and evaluation process, 5. General coordination issues
This meeting is organized in the following countries and participates in the following meetings via remote voice and video messaging from the following regions and or countries: 1. European Union 2. Lao People's Democratic Republic 3. Kingdom of Cambodia 4. Socialist Republic of Vietnam.
/////
កាលពីថ្ងៃទី១៩-២០ ខែមិថុនា ឆ្នាំ២០២៣ នេះ លោក សុខ សុថា នាយកគ្រប់គ្រង នៃសមាគមសហព័ន្ធកសិករកម្ពុជានៃអ្នកផលិតកសិកម្ម និងជាសមាជិកក្រុមប្រឹក្សាភិបាលបណ្តាញកសិអាក្រូអេកូឡូស៊ី (ALiSEA) ទទួលបន្ទុកផ្នែកគោលនយោបាយ បានចូលរួមសិក្ខាសាលាភាពជាដៃគូប្រចាំឆ្នាំថ្នាក់តំបន់លើកទី២នៃគម្រោង ASSET។
សិក្ខាសាលានេះមានគោលបំណង ចែករំលែកព័ត៌មាន និងពិភាក្សាអំពី៖
១. សកម្មភាពសិក្សានៅតាមទីតាំង(មូលដ្ឋាន)គម្រោងនៅក្នុងប្រទេសនីមួយៗ ដោយផ្តោតលើសកម្មភាពដែលបានជ្រើសរើស និងលទ្ធផលបឋម។
២. ដំណើរការនិងផែនការគ្រប់គ្រងទិន្នន័យ។
៣. ការវាស់ស្ទង់ខ្នងផ្ទះថ្នាក់តំបន់ និងលទ្ធផលបឋម។
៤. កម្មវិធីបណ្តុះបណ្តាល ASSET និងដំណើរការត្រួតពិនិត្យនិងវាយតម្លៃ។
៥. បញ្ហាសម្របសម្រួលការងារទូទៅ
កិច្ចប្រជុំនេះរៀបចំឡើងតាមបណ្តាប្រទេសដូចខាងក្រោម និងចូលរួមប្រជុំរួមតាមប្រព័ន្ធបញ្ជូនសារសម្លេងនិងរូបភាពពីចម្ងាយមកពីតំបន់និងឬប្រទេស ដូចខាងក្រោម៖
១. សហភាពអឺរ៉ុប
២. សាធារណៈរដ្ឋប្រជាមានិតប្រជាធិបតេយ្យឡាវ
៣. ព្រះរាជាណាចក្រកម្ពុជា
៤. សាធារណៈរដ្ឋសង្គមនិយមយវៀតណាម