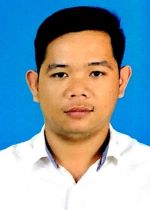 Mr. Thort Sithan was born on 03, June 1986 from a family farmer. In 2007 he finished a Bachelor Degree of Management from Build Bright University. In 2014 he finished Master Degree of Finance and Banking in Build Bright University.
He has more than 7 years of work experiences. In 2014-2016 he worked for a financial institution (Post Bank)-MFI as the credit officer based in Battambang. He also served as a field investment facilitator to release money to target customers and collect bad debts for reporting to the Bank and vice versa.
2016-2020 he worked as field investment facilitator for the Young Entrepreneur of Battambang in Battambang province, be responsible for a coordination and communication with vegetable traders (retailers and whole sellers) in Battambang markets to collect daily prices of the vegetable commodities for dissemination to producer groups in order to prepare the production plans in response to market needs at the provincial level.
2021 till present, he is working for the Cambodian Farmer Federation Association of Agricultural Producers (CFAP) as a value chain investment advisor for the Accelerating Inclusive Market for Small stakeholders (AIMS) which focused on five consumed and confirmed commodities such as back yard chicken, quality assured rice, cassava, vegetable, and raw silk. In this task assignment which focused on business proposals development, coordination between farmers and traders, coordination between farmers and service providers, coordination to invite farmers to bring their produces for sales at the weekly markets, coordination the MSP meetings, registration databases into the MIS system and working to assist the satellite hub offices and regional hub office as needed.