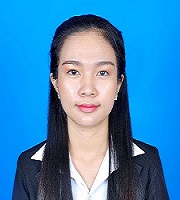 Ms. Thach Chanthida was born on January 28, 1998. Thida graduated a bachelor degree, major in Accountant from the Svay Rieng University in 2019.
Before working for CFAP Cambodia she used to work for some companies such as Canadia Bank as an accountant, a private school Sovan Serey International School as an accountant. Previously, she did her internship with Amret Microfinance Institution on human resource (HR).
She started working for the Cambodian Farmer Federation Association of Agricultural Producers (CFAP-Cambodia) in December 1, 2021 as an accountant and assistant to the management department.
In this capacity, she is responsible for finance, Assist CFAP Cambodia Management Department on communication and facilitation with local partners and farmers' associations, agricultural cooperatives and relevant stakeholders in collaboration with CFAP Cambodia. To monitor the progresses of the implementation of small grant projects and financial matters.