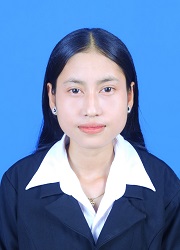 Ms. Rin PovLeak was born on February 14, 1998 at the farming community in rural Cambodia. She is in year 3 university major in Banking, Svay Rieng university.
During the university course, she also worked for a garment factory company "QC Co.Ltd" and be responsible for inspecting clothes for 1 year i.e. in year 2. In year 3 from she worked as a volunteer for iDE organization for six months (April to September 2021). As a volunteer with iDE, she works on collection data of the commune on sanitation, use of toilet, latrine, coverage areas and databases at target villages of the project.
Povleak started working as an internship on administration and finance for the Cambodian Farmer Federation Association of Agricultural producers (CFAP-Cambodia) in October 2021. Within the assigned task and responsibility for CFAP, she is responsible for administration and financial matters.