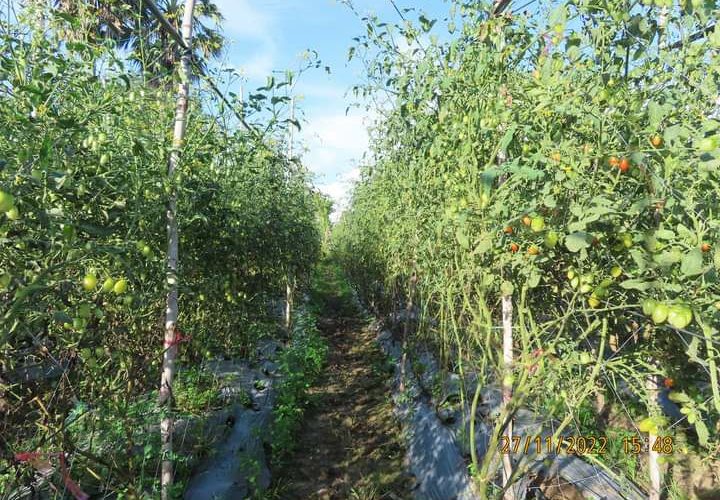 OUR SMALLHOLDERS GET INTERESTED IN GROWING NEW CROPS FOR SALES TO LOCAL CLIENTS IN CAMBODIA!
Cherry tomato is a new crop for smallholder farmers in Banteay Meanchey province, Cambodia which farmers grow on the average land size of 625 Sq.metters. According to the committee member of SAHAKHUM KAKSEKHAM BANLE SOVATHAPHEAP RONG ROEURNG AGRICULTURAL COOPERATIVE, Mr. Dim Thorn, most farmers in his community grow vegetables in dry season while in rainy season it is always flooded and most farmers can grow rice only. During the field visits of CFAP's chairman, PRUM Samat and a managing director, SOK Sotha to meet farmers in the North West of Cambodia, farmers have expressed their concerns similarly that water, knowledge, capital, market and human resource at the communities are priority issues for smallholders and farmers' organizations at sub-national level.
Those farmers who grow cherry tomato, normally harvest 35Kg to 45Kg from their small scale farm daily for collective sales to the local markets, it costs 5000KHR per Kg or US$1.25 at the farm gate. Cherry tomato farmers can harvest for a period of three months for each season.
Covid-19, Climate change and war in Ukraine have already affected to smallholders in Cambodia because the production costs are higher than usual and the prices of produces are the same and even lower compared to the past few years and many animals farmers have already loss and become debt.
Most of our smallholders in the rural society in Cambodia now need access to direct finance to improve their agricultural production, access to water, build better capacity of farmer members and structure their produces from farm to market firmly. Farmers said, they need to encourage rural youth to stay in agriculture and agriculture must be profitable.